Have You Noticed That Every Single Seller Claims to Have "Truly, 'Plug and Play'" Products in Bold Letters at the Top of Their Listings? and Everyone Forgets to Tell You What They Do to Make Their Devices Easier for You to Use? Why Do They All Forget? It Takes Years of Experience, Dedication, and Hard Work Each Day to Design and Configure a Truly, "Plug and Play" Streaming Experience. For Example, Up to 75% of the Total Time We Spend on Your Device is Dedicated Just to Making it Easier for You to Use on Day 1.

We Go Above and Beyond to Deliver You the Most "Truly, Plug and Play" Streaming Experience on the Planet.
We Run Diagnostic Tests and Stress Tests Designed to Spot Potential System and Hardware Defects and Failures
Depending on the Device You Purchase and the Number of Kodi Builds and Apps Included, We Disable or Remove 50-200 Default Apps, Addons, and Stream Providers to Decrease the Time It Takes You to Find Reliable HD Streams for New Content. (More About this Below)
We Sign You into At Least 12 Accounts Total to Decrease the Time it Takes You to Find New Content by Up to 50%, and Increase the Amount of Content You Can Find, Increase the # of Reliable Stream Providers, and the Overall Performance of Your Kodi Builds (See More Below)
We Install Up to 3 Custom Launchers.
Everything on Your Entire Device is Categorized and Ranked so You Intuitively Know What Every App Does and Which Apps Are the Best for You to Use When You Are Just Getting Started.
We Even Include Quick Tips Directly in Our "Day 1: Freedom" Build to Make Sure You Can Harness Every Resource on Your Device on Day 1.
Accounts We Sign You Into and Why… Here are a Few… We Sign You Into Our Amazon Account or Gmail Account (You Can Sign Us Out and Sign Into Your Own Account if You Have Amazon Prime)
We Sign You Into At Least 3 Separate Cloud Accounts in 3 Seperate Applications (If You Add the Cloud).
Our YouTube Account. a Go-To Source for Everything from Movie Trailers, to  Concerts, Stand-Up, and Live TV/News if You Know Where to Look.
Our MovieHD Account for The Most Reliable Movie and TV Show Streams.
Our CKay TV Account (One of the Best Free Apps for Live TV/ Sports/ PPV),
Our Trakt Account. (So We Can Send New Movie and TV Show Playlists Directly to You in the Build)
Our Fanart Account (so the Fanart, Icons, for New Movies and TV Shows Load 50% Faster)
Our Google Drive Account so You Can Stream More Movies and Shows from Goog, GstreamGoogle Streams, Youtube, ( These Are the Most Reliable Free Links for Movie/TV Shows period, This Decreases the Number of Bad Links You Click Before You Get to Movies and Shows)
Our IMDB, TMDB, Etc. Etc. Etc. Accounts (These Are the Movie and TV Show Databases Your Kodi Addons Use to Find New Movies, Plot Summaries, Movie Ratings Etc. By Signing You In Directly with Our API Key It Decreases the Time it Takes You to Find New Content, Opens Up More Content, etc, etc. etc.)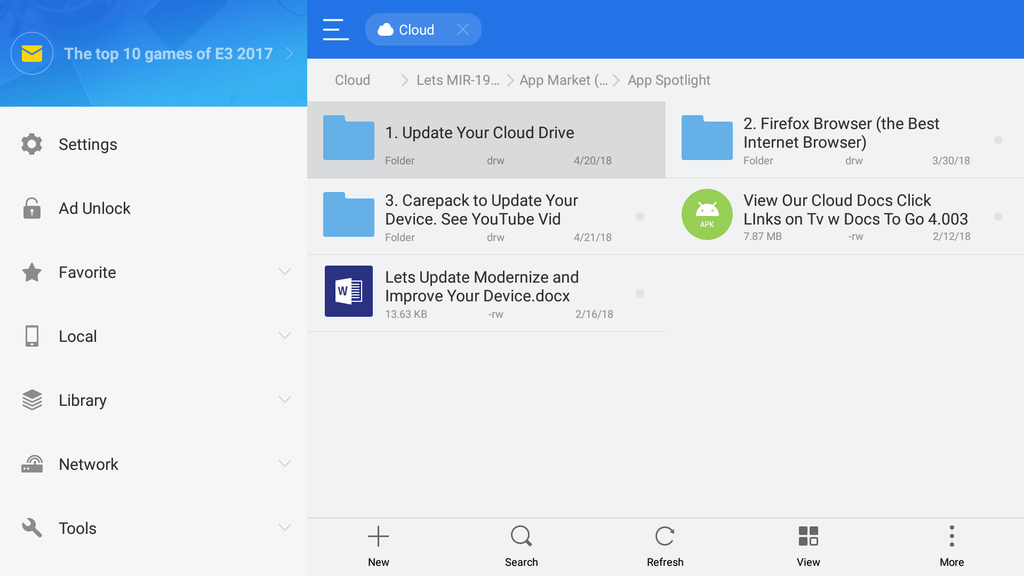 We Unlock Your Device, Disable Approx 20 Different Anonymous Data Monitors, Sync Services and Processes that Run in the Background (For Increased Performance, Reliability, and Privacy)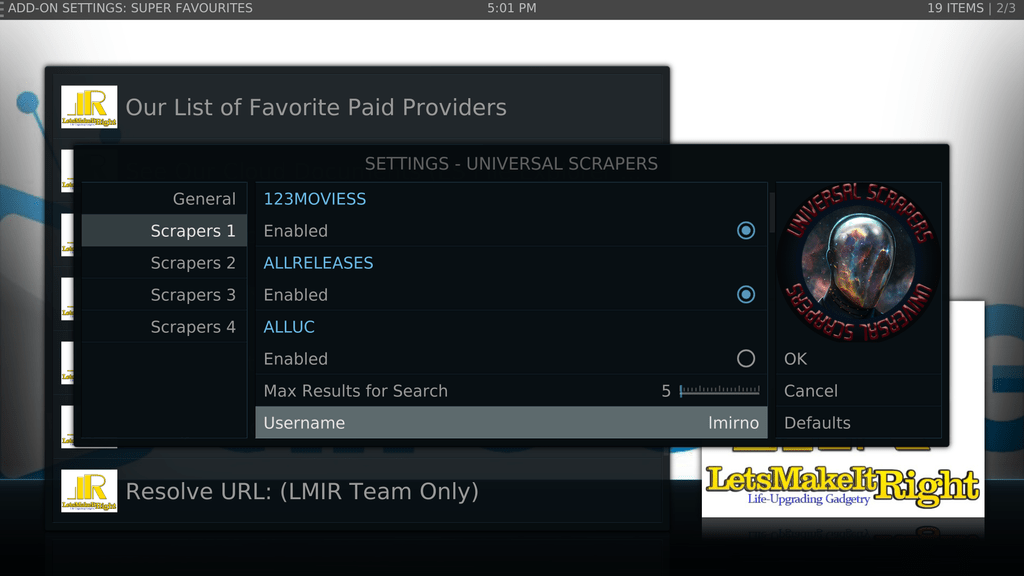 We Make Sure the Addons and Apps You Use The Most, Load Up to 50% Faster by Disabling the Websites (Also, Known as "Providers") with Movies that are Notorious for Buffering and Providers who Constantly Find SD Content (or lower Quality Videos) When Every Other Provider Is Able to Find the Same Movie in HD (or Higher Quality Videos). We Disable Sites and Providers in the URL Resolver and Universal Scrapers too. This Makes Your Movie/ TV Show Searches Faster and Brings the Fail Rate for Movies and Shows Down from 60% to Approx. 25% (Depending on Demand (Time of Day and Popularity of the Content) This Saves You Time and Frustration. (We Repeat A Similar Process in Your Terrarium TV app, Morpheus TV App, and Others.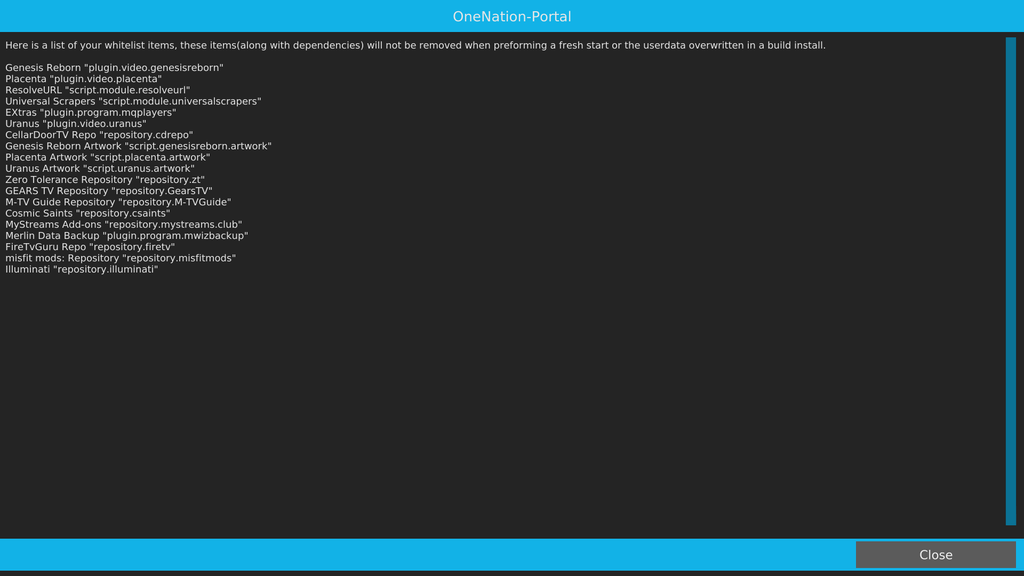 We Tune Your Builds to Your Device Using the Advanced Settings Tool and the Zero Cache Method. This Decreases Load Times and Increases the Overall Performance of the Build as a Whole. We Whitelist the Addons We Optimize Above, so You Can Update Your Entire Build In 1-Simple Process, Using the Fresh Install Method Without Losing Any of the Optimized Settings. This is Very Important Because the Fresh Install Method Clears off all the Old Addons from Your Build and Installs All the New Addons. The Number Of Customers who had to Send in Their Devices to Be Reinstalled dropped from 25% to 10% When We started Setting This Up for Our Customers. Keep This In Mind If a Seller Ever Tells You To Never Click "Fresh Start" or "Update" Etc. and Make Sure You Know How Much They Charge for Installation Fees.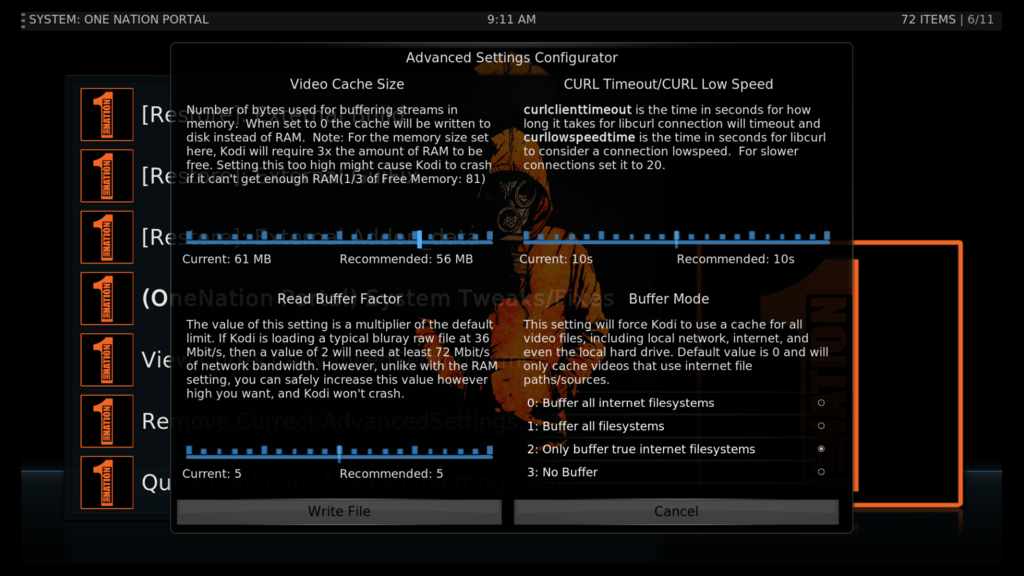 We Disable 48 Addons That Auto-Start Every Time You Open Kodi and Run in The Background. This Makes Your Builds Startup 40-50% Faster and Increases the Overall Speed of Your Builds and Makes Your Builds More Responsive.
Whenever Possible, We Disable Sections, Playlists, and Providers for International Content to Make it Easier for You to Find English or Spanish Content. (Please Reach Out to Us If You Speak any Other Language Besides English, We Will Enable it Find You More Content if Possible)
We Tune the Most Important Addons Specifically to Your Devic to Make Sure the Default Time for Your Movie Searches is Not too Long or Too Short. In 22 of Your Apps and 49 Addons We Change Over 150 Settings total (We Lost Count at 300 for NVIDIA Customers) We Install 1-2 AdBlockers or 1 Optimized Light AdBlocker for Fire TV Sticks. 150- 370+ Addons for NVIDIA Customers.)
Basic App Optimizations to Make Your Device Truly Plug and Play.
2. We Click Through All of Your Apps That Have Settings/Prompts to Enable Before They Update (so You Just Click "Update" & "Install)
3. We Click Through All of Your Apps That Receive Updates to Make Sure They Are Updated
4. We Click Through 100% of the Apps with Prompts to Download Unnecessary Applications, Disclaimers, 1st Time Startup Ads, etc.
We Categorize all the App Icons on Your Device, All the Icons in Your Launchers, and All the Icons in Our Freedom Build and Your Favourites Too. Everything is Listed According to Rank. This is the Best Method to Make a Truly Plug and Play Device. It's Not Only Intuitive, But It also Teaches You Which Addons and Apps to Use in Each Category or Genre.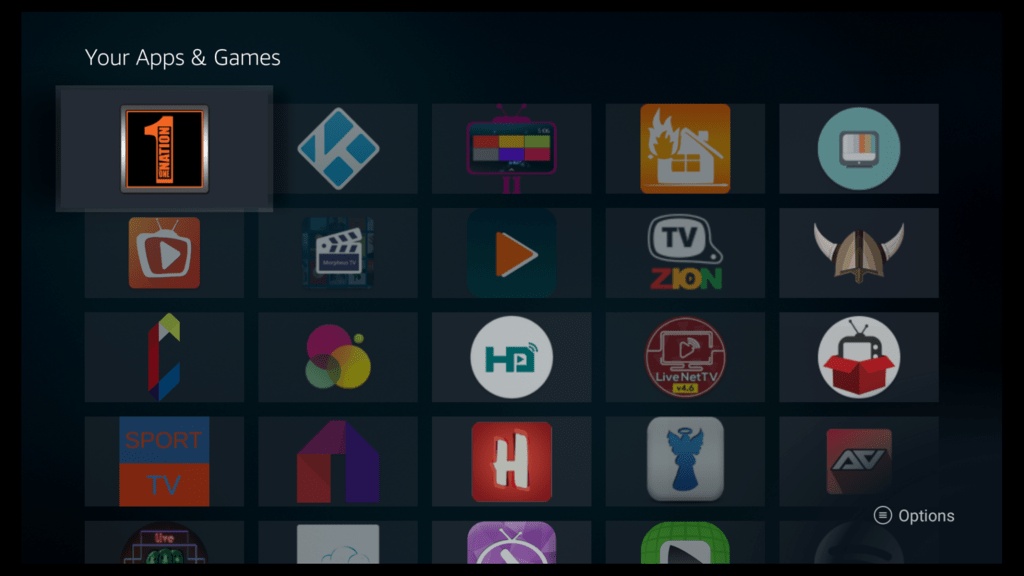 We Turn the Favourites Section in Each of Your Kodi Builds Into a Guided Walkthrough with Tips and Links to Our YouTube Channel. For Example, Open Your Kodi Build. Scroll Left 2x. Click on "Favourites". Click the Link in Cosmic Saints to Learn How to Install Adult Addons to See How to Install the Addons or Directly Below It Says. "Step 1 Click Here', "Step 2 Click Here". It's Convenient, Condensed Learning, Right Inside Your Builds. Just Scroll through, Read What it Says, and Click It if You Like What You Read. It Will Have Shortcuts to Sections Like Stand-Up with Over 600 Comedy Acts and Concerts With Over 1000 Concerts.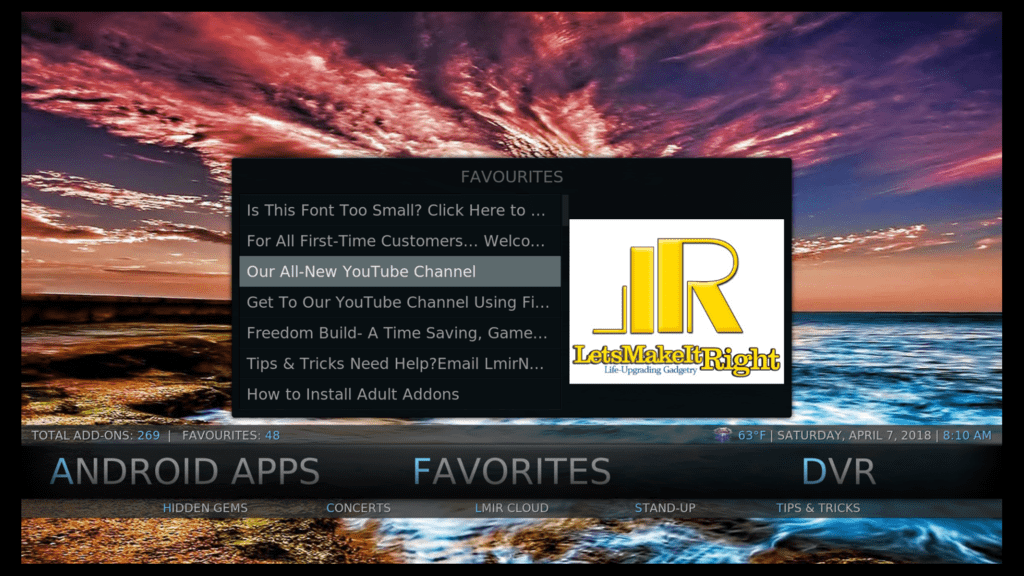 This Makes Every Build, Every Addon, and Every Application on Your Device Truly Plug and Play on Day 1. You Don't Even Have to Know the Names. Just Know that the Top of the List is the Best. Start at the Top and Work Your Way Down.
Start In Our Freedom Build. Click on the #1 Icon to Launch it. Want HD Movies? Go to Movies, Click HD Movies. Every Addon With an HD Movie Section Will Pop Up Listed Based on How Good They Are at Their Job. (This is Now in the Top 5 HD Addons Section to the Right) Want American Sports? Go to Sports, Click "US Sports". We Even Install Shortcuts to www.TVGuide.com. So You Can Find What Channel the Game is On. We Have a Built-in DVR Section, Want to Add Shows to Your DVR? Scroll Left to the DVR Section. Click "DVR Help", It's 2-Steps. You Can Click on Step 1 and Step 2. or Click to Watch the Video.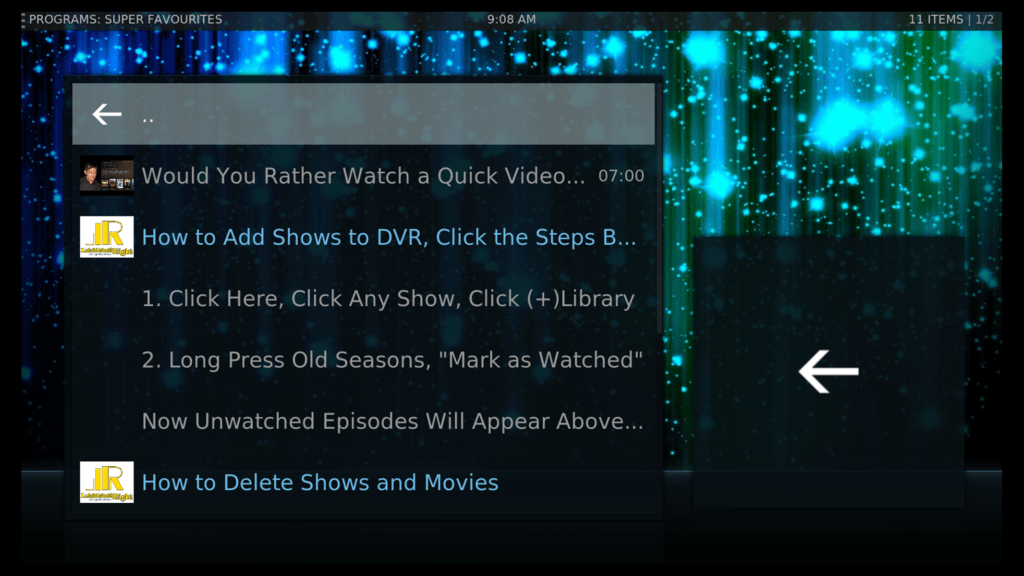 Your Build Has Help Sections (Like "DVR Help" Section) with Walkthrough Videos from Our YouTube Channel Directly in The Sections Where Our Customers Reached Out to Us to Ask Questions. The Entire Build Is Reverse Engineered From Your Questions. We Always Listen. We Walk You Through How to Find It and We Always Ask Ourselves 1 Question When We Are Done. What Can We Do to Make It, so No-one Else Has to Ask the Same Question? Because If 1 Person Asks the Question, Dozens or Even 100's of People are thinking the Same Exact Thing. They Are Just Too Busy, or They Don't Feel Comfortable Enough to Ask Us. Along With "Tips and Tricks" Sections. You Can Also Click on the Screen Share in Your Tips and Tricks, Email the Code You Get (along with an Appt Time if Needed) Or Just Tell Us to Make You A Walkthrough Video. We Will Upload it to the Build for You and Message You a Link.  LMIRNow@Gmail.com
 **For NVIDIA Customers Only: If We Mention, "Do Not Update Your NVIDIA System Software" in the 1st Paragraph of the Simple Start Guide We Install the Most User-Friendly System Version Available and Disable all The Update Notifications We Can. If This is Not an Option You Are Updated to the Most Current Version of NVIDIA Software.

All Customers: Everything on Your Device is Meant to be Updated. Update it Fearlessly with 3 Exceptions. (To Make It Simple, just Remember "If it's Blue and White, It's Most Likely Not Alright.") 1. Do Not Update Your Blue And White ES File Explorer or Mixplorer Applications. These Applications are Your Cloud Drives and They Are Optimized for User-Friendliness. 2. If You Are Inside One of Your App Markets and It Says There is an Update Available for Your Blue and White Kodi Application, Do Not Click It. (This is Not to Be Confused with Your Kodi Build Updates that Pop Up When Are Inside Kodi. Build Updates Are Amazing and Should Be Done Immediately So You Get the Best New Addons and Best Performance.) Any Questions on What to click: See Your favorites, See the Video Towards the Top, or the Complete Streaming Guide on Our Support Page. 3. NVIDIA Sheild Users: As Mentioned Above. If It Says Do Not Update Your NVIDIA Shield System Software on Your Simple Start Guide, Do Not Click to Update it. We Have Disabled Every Notification We Can We Just Do Not Have Any Control if NVIDIA Pushes Out anything in the Future.